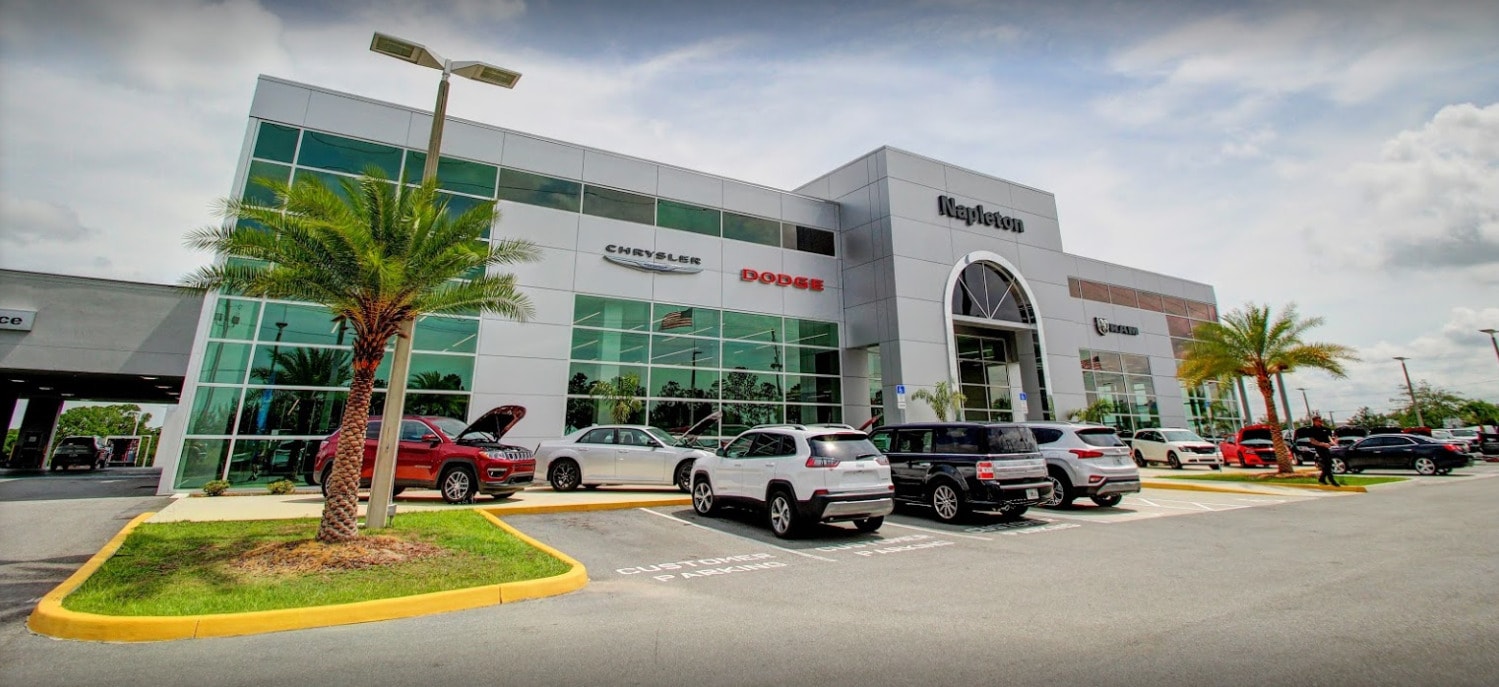 Clemont Chrysler Dealer Information, Vehicles, Prices, Reviews
Call for more info!
Chrysler Clermont Dealership Information

Clermont Chrysler is situated along State Road 50  also known as the East-West Expressway, the city's longest highway running through Lake County. We are just a few minutes away  from the Presidents Hall of Fame, the Florida Citrus Tower, and Waterfront Park.  Boasting with FCA's  Customer First Award for Excellence designation, our Clermont Chrysler dealership offers reliable high-quality vehicles, spectacular lease options, affordable financing options, and top dollar for used car trade-ins. By extension we also offer a professional Chrysler Maintenance services and a state-of-the-art maintenance facility. 
Our product range features beautiful vehicles, such as the Chrysler 300, 300c, and Pacifica. Whether you're looking for a full-size family van, or an attractive full-size sedan, your sure to find the perfect vehicle at our Clermont Chrysler dealer. But don't just take our word for it. Stop by and check us out at
15859 State Road 50
Clermont
,
FL
34711-9533
. 
To save time, fill out the form below and schedule a free test drive. Once you complete the form, you will also receive an exclusive Clermont Chrysler price quote. But you must hurry. Our Chrysler deals are going fast. And we want to make sure you have the best car shopping experience.

New Chrysler Vehicles in Clermont, FL

Is it time to upgrade to a new Chrysler vehicle? If so, make your way down to our local Clermont Chrysler dealer. Our showroom is filled with all of the latest Chrysler models including the 300, 300c, and Pacifica.  Of course, we also have all of your favorite new Chrysler model trims, packages, and accessories. If that not enough, we have also put together a list of  new 2022  Chrysler reviews, specs, reviews, and comparisons. We're confident once you see our new Chrysler specials, you'll be glad you came. But the real payoff begins whenever you see our showroom floor. The sooner you act, the sooner you can get behind the wheel of a new Chrysler in Clermont, FL.

Make an appointment >>

Used Chrysler For Sale in Clermont, FL 
Finding a preowned vehicle is tough?  But not at Clermont Chrysler! We make it easy for you find your next set wheels. Whether you're looking for a preowned  family van, or you're looking for a full-size midsize sedan with five passenger seats and premium features, we've got it all. You can even expect  to find a used Chrysler for sale under $10K. And that's just part of the story.

If you're looking for the best way to elevate your standards without compromising the things that you love most, we can help you slip into a premium used Chrysler model.  And remember. We offer reliable high-quality vehicles. Each of our cars and vans have been thoroughly inspected to ensure your safety and security. For additional confidence, we also offer certified preowned Chrysler vehicles. 

For more used Chrysler information, make an appointment >>

Clermont Chrysler Finance Department

When it comes down to financing a new or use Chrysler for sale, no one cares more than us. Therefore we have prepared a team of Central Florida's most sought out auto financial advisors.  Each of our financial advisors have spent years working with  car shopper with good credit, bad credit, and no credit. Therefore, we are confident that they can help you find the right car financing solution for you. 

We have also put together a list of  resources to help you get approved for an auto loan. In our experience, most of our Chrysler shoppers have benefited form our free online credit application, monthly car payment calculator, and online car payment interest estimations. You'll appreciate our free used car appraisal tool. Together each of these tools should get pre-approved for a new or used car in no time.

Additionally, we also Chrysler leasing options to qualified shoppers. Chances are, if you lease a new Chrysler, you'll appreciate our flexible lease terms, low-cost down payments, and reduced monthly payments.

Direction to our Chrysler Dealership near  Clermont ,FL
Chrysler Information
* Indicates a required field
Chrysler is a premium luxury American Car Brand...
committed to exceeding drivers expectations.  Standing out with a distinct design, the Chrysler Car line up carries an aura of power. Thanks to Chrysler's standard award winning engine you will receive a driving experience like never before. Craftsmanship is what gives Chrysler its edge. Once you get in, your will unlock the comfort and intuitively innovative technology integrated into every Chrysler. Delivering a sense of class and authority, the Chrysler shows the road who is boss. You will love how every Chrysler is perfectly designed to fit your entire family without compromising value. Not to mention. You even get the best in class fuel efficiency whenever you drive a Chrysler. Don't wait. Find the Chrysler that is best for you.



When shopping for a Chrysler vehicle in Orlando or Kissimmee we realize you have choices.  Napleton Chrysler of Clermont, proudly serves Orlando Chrysler vehicles at amazing prices. We have a huge selection of Chrysler vehicles to choose from.  It doesn't matter if you are looking for a Chrysler 200, 300, 300C or Pacifica, We have got you covered.  Make sure to contact us above with any questions you may have.  You can also fill out the form to take a test drive around Orlando in a Chrysler vehicle.  Napleton Clermont Chrysler.

If you are looking for the Chrysler dealership for you, make Napleton Clermont Chrysler your first stop.  We will do everything in our power to make it your only stop.  Chrysler vehicles are amazing and we are confident you will be in love with your new Chrysler.  It is our job to make sure that you are happy with every aspect of our Chrysler dealership and we specialize in that.