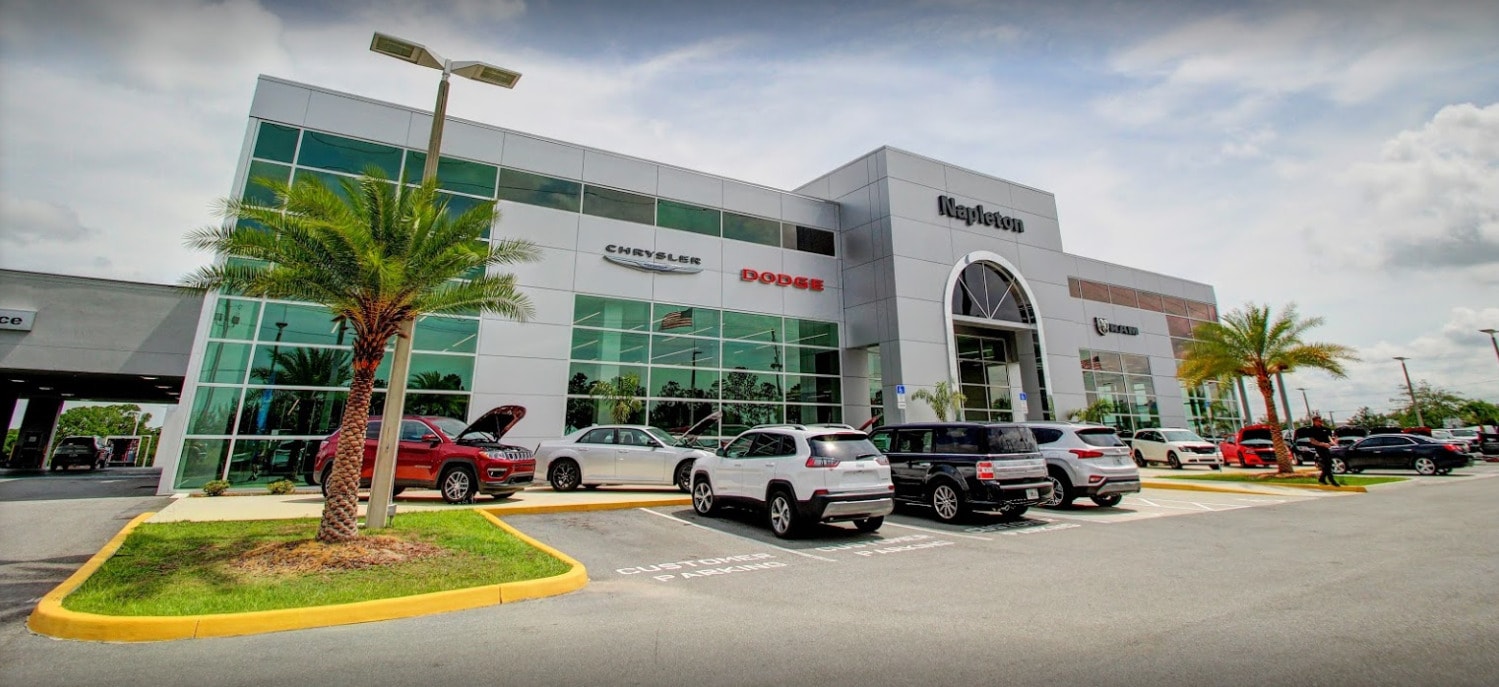 Clermont Dodge Dealer Information, Vehicles, Prices, Reviews
Call for more info!
Clermont Dodge Dealer Information
Search Clermont Dodge Inventory Online
We serve many local communities, offering pickup and drop off valet services for our customers, including:
Winter Garden, FL

Ocoee, FL

Tavares, FL

Apopka, FL

Doctor Philips, FL

Mount Dora, FL

Leesburg, FL

Pine Hill, FL

Lockhart, FL

Eustis, FL

Oak Ridge, FL

Forest City, FL

Fairview Shores, FL

Wekiva Springs, FL
Orlando, FL

Welcome to the Clermont Dodge headquarters serving the Dodge car needs for Clermont and surrounding communities of Orlando, Winter Gardens, Lockhart, Apopka, Oak Ridge, Forest City, and Ocoee.

Clermont, FL, is truly a "Choice of Champions." Naturally, Lake County has been the training ground for elite Olympic athletes, but you'll also notice the champion spirit is in all. That being said, we are proud to serve as the premier Dodge Dealer in Clermont, FL.
As a token of our appreciation, we have taken the liberty to prepare a list of our top Dodge models. You'll also be glad to know that we offer huge Dodge discounts on all of your favorite Dodge cars, SUVs, and vans. And for shoppers interested in financing a new or used Dodge for sale, we offer a wide range of finance options and lease options to accommodate your budget.
Drop by and check us out  15859 State Road 50 Clermont, FL 34711-9533.  We are located just minutes away from Orlando and a short drive away from Winter Park, FL.  
For drivers interested in scheduling a free test drive online, fill out the free online form below. Once you complete the form, you'll also receive an exclusive Dodge deal. And don't worry. There are no risks or obligations-just an opportunity to find the best car for you. 
Make an appointment >>

New Dodge Vehicles in Clermont, FL
Are you shopping for a new Dodge car, SUV, or van? We can help you narrow down your options when it comes down to finding the perfect new vehicle. Our Dodge showroom is loaded with incredible deals on the new Dodge Hellcat, Charger, Challenger, Durango, Journey, and Grand Caravan. Plus, we also have all of favorite new Dodge model trims, packages, accessories, and features. And just as you might imagine, each of our  new Dodge vehicles come standard with a powerful new Dodge warranty. Therefore you a new Clermont Dodge vehicle with confidence. So, what are you waiting for?

Take a glance at our new Dodge inventory, and let us help you find the best car for you. Also, ask about our new Dodge prices and get an exclusive deal. Let us help you build and price a new Dodge. It just takes a few seconds. That's more than enough time  to find a new Dodge  vehicle for you.

Used Dodge For Sale in Clermont, FL

Considering a preowned Dodge vehicle? Need help? View our inventory of used Dodge If you're in the market for used or certified preowned Dodge SUVs, vans, or cars for sale, you've come to the right place. We have all of the best for a whole lot less. At our local Clermont Dodge dealer, we offer used car deals, financing, CarFax Reports, and reviews. We also offer used trade-in appraisals and specs sheets. Browse our used car inventory, containing tons of used automobiles, SUVs, and vans for sale. Discover bargain prices on all of your favorite Dodge Challengers, Chargers, Durangos, and Journeys. We can also help you narrow your options down to used car mileage, body style, and trim level. Contact us today and let us show you how we can help you make your used-car shopping experience more comfortable.

Clermont Dodge Finance Center

If you're looking for the best place to finance a new or used Dodge for sale, start with Napleton Clermont Dodge. We offer affordable auto loans, great interest rates, and reduced monthly payments. We can also help you lease a new Dodge with little or no money down. And don't worry. We have plenty of experience assisting shoppers with good credit, bad credit, and no credit. Therefore, we are confident that we can help you find the right financial solution for you. And that's just the beginning.

If you want to save time, get pre-approved online with our free online credit application. While you are at it, try out our new car loan payment calculator. Helping you buy or lease a Dodge is our top priority. Contact us today and let us show you why we are the most trusted Clermont Dodge dealer.
Clermont Dodge Maintenance Service Center

For bumper to bumper quality and value, plus expert Dodge maintenance, visit Napleton Clermont Dodge. Our commitment to customer satisfaction, and high-quality maintenance services sets us apart. We located in the heart of Lake County, and as family-oriented business, we understand how important it is to have a safe vehicle to get you to work, school practice, or shopping. We specialize in Dodge scheduled maintenance, oil changes, brake inspections, electronic diagnostics, transmission repairs, steering fluid repairs, and more. We also offer a luxurious maintenance waiting area with free Wi-Fi, fresh beverages, and a high-tech entertainment area. Visit us today and let us help you with all of your Dodge maintenance and auto repair questions and concerns.

Directions from Clermont, FL to our Dodge Dealer

Dodge Dealership Information
* Indicates a required field
We We're Born Dodge
Dodge has been known to break a few rules. Streak a few streets. And turn a few heads. But sometimes you have to break the rules to set the standard. Every Dodge is charged up with 100 years of attitude and American Muscle. Boasting with an undeniable combination of  performance, attitude, muscle, and value, Dodge is a sports icon . Dodge's American soul has spread  from muscle cars, to compacts, cross overs & SUV's. Dodge's signatures performance, and cutting edge technology makes it the most capable  and efficient car brand on the road. Give yourself the power you always wanted. Stop by  Napleton's Claremont Dodge Dealer, and experience the relentless power of Dodge   
If you have heard about the Dodge brothers, then you probably know that these vehicles are packed with power.  If you want to tear through Orlando in a Dodge vehicle, your not alone.  Dodge vehicles have power, technology and looks all in  one package.   You can take a test drive of one of these amazing Dodge vehicles Orlando, Clermont or surrounding areas, just fill out the form above.  We must warn you, driving around Orlando in a Dodge can be addictive and will most likely leave you wanting more.  Odds are you have seen a Dodge Challenger or Dodge Charger driving around the streets in Clermont or Orlando.  If you have, there is no need to tell you how beautiful these vehicles are!  Stop in today at Napleton Dodge Clermont.